1. Heavy weight tackle twill for all team name and numbers.
2. Top of the line material, the perfect type based on your needs.
3. Piping & Accents to give the professional look.
4. Custom embroidery of your logo for more personalized style.


Materials

Click on the below materials to get a closer look.









Team Lemcke Customization

1. Ability to use any color combination you desire.
2. Several neck styles to choose from.
3. Several trim patterns to choose from for neck, arm, waist and leg piping.
4. Ability to use any lettering style you can think of.
5. Ability to use any configuration for your team name and player number that you want.
6. Several highlight options for your team name and player number lettering.

Colors
The below colors are available in most materials. Contact your rep to confirm that the color(s) you are looking for are available in the material you want. Shades very slightly based on what material you choose.


















Neck Styles
The below neck style options are available for each and every uniform and shooting shirt we offer.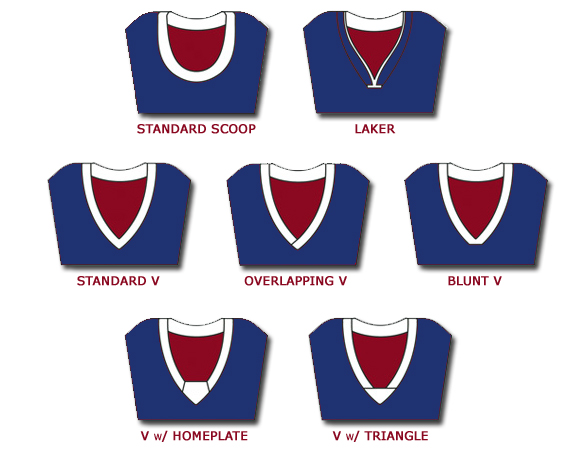 Trim Patterns
The below trim options are available for the neck, arm, leg and waist piping of your uniforms.

Lettering
The below lettering options are a sampling of what is available for your uniforms. If you have a specific font that you are interested in, let your rep know.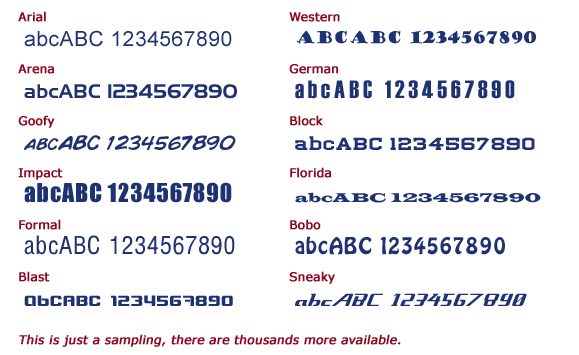 Configurations
The below configuration options are examples of how your team name could look. Our design team will potentially use some of these options as well as any other options you suggest.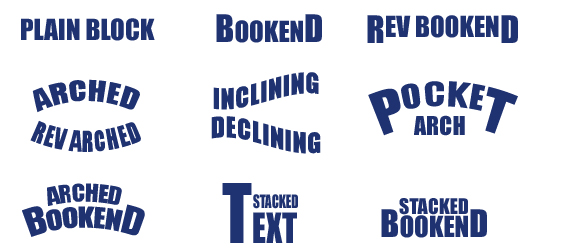 Highlights
The below options are for how your team name and numbers will be highlighted on your uniform.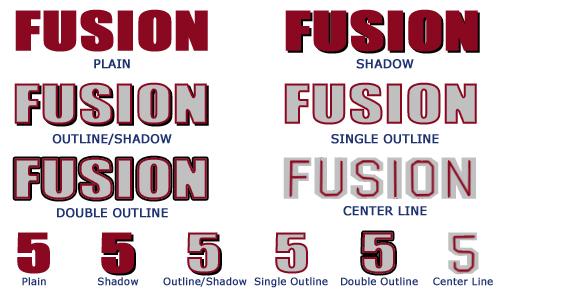 Sizing
| | | | | | | | |
| --- | --- | --- | --- | --- | --- | --- | --- |
| Size | Chest | Waist | Short Inseam | Short Length | Pant Inseam | Pant Length | Height |
| YS | 33" - 34" | 18" - 21" | 5" | 17" | 27.5" | 34.5" | 4'1" - 4'4" |
| YM | 35" - 36" | 21" - 24" | 6" | 18" | 28" | 35.5" | 4'4" - 4'7" |
| YL | 36" - 37" | 24" - 26" | 6" | 19" | 28.75" | 36.5" | 4'7" - 4'10" |
| YXL | 37" - 39" | 26" - 28" | 6" | 20" | 29.5" | 38" | 4'10" - 5'1" |
| S | 39" - 42" | 28" - 30" | 7" | 22" | 30.25" | 39.5" | 5'1" - 5'4" |
| M | 42" - 45" | 30" - 32" | 7" | 22.5" | 31" | 41" | 5'4" - 5'6" |
| L | 45" - 48" | 32" - 34" | 8" | 23" | 32" | 42.5" | 5'6" - 5'10" |
| XL | 48" - 51" | 34" - 36" | 8" | 23.5" | 32.75" | 44" | 5'10" - 6'3" |
| 2XL | 51" - 54" | 36" - 40" | 9" | 24.5" | 33.5" | 45.5" | 6'3" - 6'7" |
| 3XL | 54" - 57" | 40" - 44" | 9" | 25.5" | 34.25" | 47" | 6'7" - 6'11" |
| 4XL | 57" - 60" | 44" - 48" | 10" | 26" | 35" | 49" | 6'11" - 7'3" |
| | | | | | | | |
| --- | --- | --- | --- | --- | --- | --- | --- |
| Size | Chest | Waist | Short Inseam | Short Length | Pant Inseam | Pant Length | Height |
| YS | 33" - 34" | 18" - 21" | 5.5" | 16" | 27.5" | 34.5" | 4'1" - 4'4" |
| YM | 35" - 36" | 21" - 24" | 5.5" | 17" | 28" | 35.5" | 4'4" - 4'8" |
| YL | 36" - 37" | 24" - 26" | 5.5" | 18" | 28.75" | 36.5" | 4'8" - 4'11" |
| YXL | 37" - 39" | 26" - 28" | 5.5" | 19" | 29.5" | 38" | 4'11" - 5'2" |
| S | 39" - 42" | 28" - 30" | 6" | 21" | 30.25" | 39.5" | 5'2" - 5'5" |
| M | 42" - 45" | 30" - 32" | 6.5" | 21.5" | 31" | 41" | 5'5" - 5'8" |
| L | 45" - 47" | 32" - 34" | 7" | 22" | 32" | 42.5" | 5'8" - 5'11" |
| XL | 47" - 49 " | 34" - 36" | 7.5" | 22.5" | 32.25" | 44" | 5'11" - 6'4" |
| 2XL | 49" - 51" | 36" - 40" | 7.5" | 23" | 33.5" | 45.5" | 5'11" - 6'4" * |
| 3XL | 51" - 53" | 40" - 44" | 8.5" | 23.5" | 34.25" | 47" | 5'11" - 6'4" ** |
*Above average weight at the same height range
**Heavier than above average weight at the same height range